Why Are We Still Hanging Around With Chad?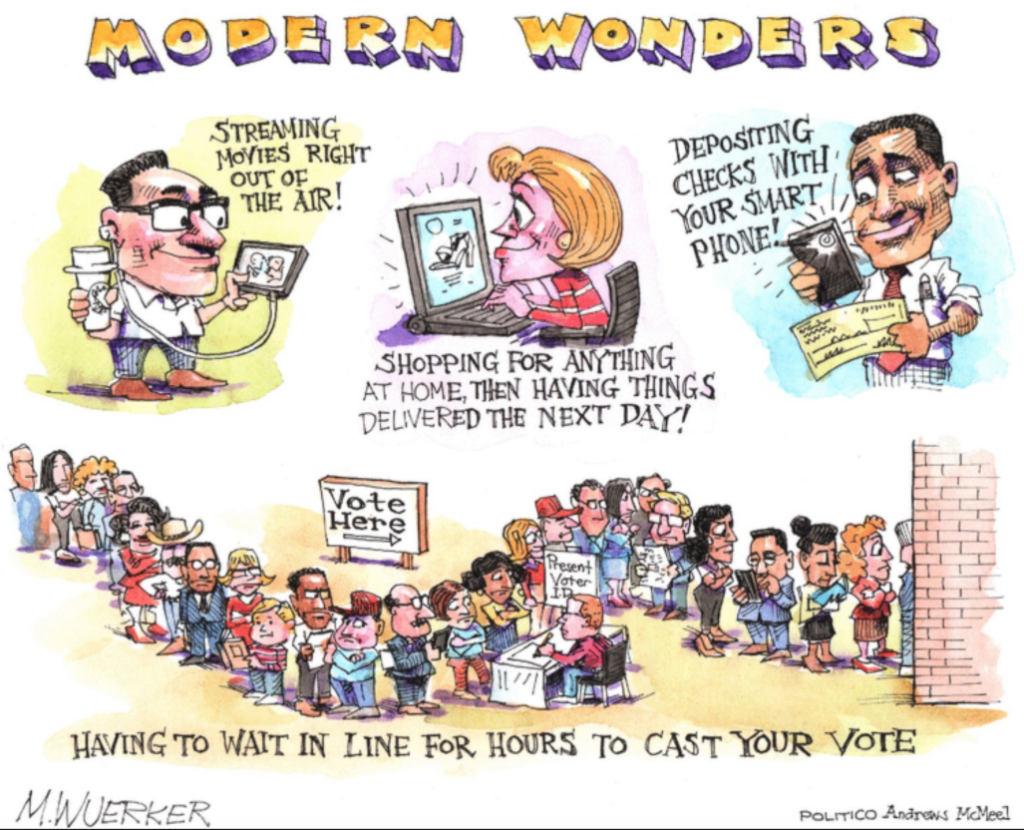 There is no question that the application of technology to facilitate voting is inevitable. In an age of smartphones and near-ubiquitous internet connectivity, the idea of standing and waiting in line, for hours at a time, in order to cast a vote on a piece of paper seems prehistoric.
We have all been waiting for the step change that will modernize and bring about online voting — so what's getting in the way?
It is a function of confidence and a crisis of trust: voters have to trust that the technological infrastructure will count their vote, and trust that their opinions will be kept secure and private. Historically, observable paper-based voting has served as this basis of trust. But while paper is observable, a report of the Caltech-MIT Voting project concluded that the presence of paper trails actually decreases public confidence in voting systems. To quote Dr. Michael Ian Shamos, Distinguished Career Professor at Carnegie Mellon's School of Computer Science in his paper, "Paper v. Electronic Voting Records — An Assessment":
Furthermore, not only must there be a shared belief in the system's capabilities, but the system must also be capable in the absolute; the technology platform itself must be irrevocably worthy of this trust by offering unprecedented verifiability, accessibility, security and transparency.
These four characteristics will guarantee a reliable platform regardless of public sentiment and will demonstrate how antiquated and ill-equipped our current systems are. Then, there would be no issue convincing average voters and computer security experts alike that a mobile voting solution is the most logical step forward for all elections. Although we know this may be similar to an aerospace engineer getting onto a plane with her young daughter: while only the engineer can know the complex physics that permit the plane to take off and land, her daughter can only trust that it will.
Currently, broad acceptance of certain technology applications has garnered trust: we note in the US, for example, that more than 122 million tax returns were filed electronically for the tax year 2016 — arguably, alongside health records, the most confidential document in most people's' lives.
And, thanks to distributed ledger technology, we now have the technological tools and infrastructure capable of living up to the high standards of confidence and trust required to truly transform how people vote.
This is exciting to us at Votem. Few people appreciate the complexity and cost of running an election and the amount of effort put forth by our dedicated elections professionals. And often, improving the process of voting gets confused with improving the outcomes, and may be a distraction.
Our goal is to get the process right: using Votem's blockchain platform along with other related technology and process, will allow anyone operating an election — public or private, big or small — to know, alongside every individual participant in that election, that its mechanics were sound, uncorrupted, verifiable, and secure.
Our technology has already been proven in multiple use cases, and we have partnered with a host of internationally recognized and accredited electoral governance organizations.
Over time, we're confident our platform will be broadly adopted and deployed by any body that is serious about modernizing the election process.
And, to be clear, we believe that by getting the process right we'll be making a meaningful positive impact; Votem technology will be more accessible, more verifiable, transparent, efficient, secure, and ultimately, will ensure with certainty that people's opinions are counted accurately — there are no hanging chads at Votem.
This is not to say that a superior process guarantees desired outcomes (the mark of any well administered election is convincing, not the winner, but the loser of the results). But it is to say we are finally at precisely the right moment where the promises of technology, and the capabilities of technology, are in a place that will permit us to revolutionize the way we cast our votes, and make our voices heard.
For more information, please visit https://www.votem.io. Don't forget to share this post with your friends and colleagues!
(Special thanks to Matt Wuerker & Andrews McMeel for the great graphic!)
–
Certain statements on this webpage may constitute forward-looking statements. When used in this webpage, the words "may," "will," "should," "project," "anticipate," "believe," "estimate," "intend," "expect," "continue," and similar expressions or the negatives thereof are generally intended to identify forward-looking statements. Such forward-looking statements, including the intended actions and performance objectives of Votem Corp. involve known and unknown risks, uncertainties, and other important factors that could cause the actual results, performance, or achievements of Votem Corp. in its development of the network and the VAST tokens to differ materially from any future results, performance, or achievements expressed or implied by such forward-looking statements. No representation or warranty is made as to future performance or such forward-looking statements. All forward-looking statements on this webpage speak only as of the date hereof. Votem Corp. expressly disclaims any obligation or undertaking to disseminate any updates or revisions to any forward-looking statement contained herein to reflect any change in its expectation with regard thereto or any change in events, conditions, or circumstances on which any such statement is based.
You are not to construe this webpage as investment, legal, tax, regulatory, financial, accounting or other advice, and this webpage is not intended to provide the basis for any evaluation of an investment in an interest.
Share this story, choose your platform!