A F.R.E.S.H. Experience at iGO Winter Conference 2019
Wow do the folks at iGO ever have it going on! As a vendor, we attend about 25 conferences for election and government officials per year. And of those 25 events, iGO has continuously stood out as the organization that wants to create a meaningful gathering for the best in networking and learning. If you are a government official or vendor who serves officials, I cannot encourage you more to get to the next iGO conference and see what they are doing. They are always listening and it's obvious they work very, very hard to incorporate feedback to blend high-quality networking opportunities with interactive education.
The event kicked off with an energetic and inspiring speaker, Frank Kitchen. Frank introduced the group to the idea of Living F.R.E.S.H. – Focused, Resourceful, Enthusiastic, Strong, Honest. He had all of us laughing and taking notes on how to be better at our jobs. But the best part is that iGO continued the learning with a post-lunch, hands-on workshop. Frank had all of us out of our seats playing games to meet new people and gain insight into our personalities and work styles. It was not like any session I'd ever seen at one of these conferences and I made at least four new friends while laughing and learning. What a great idea to encourage networking while also learning some new interpersonal skills!
Continuing with the idea of experiential, hands-on learning, we all hopped on a bus to visit the offices of the Orange County Registrar of Voters, headed up by Neal Kelley, Registrar of Voters. WOW! What an operation. Neal first spent about 30 minutes engaging Election Officials in a great discussion about legislative changes in the County. It was wild to hear that the County has had to implement in just 18 months what they did over the course of 12 years in Minnesota for election reform. Neal then opened up the floor so that attendees from all over the country could ask him questions, as well as each other. The energy and idea swapping was infectious!
We then were lead on a tour where we saw some truly innovative ideas in action. The County has introduced mobile pop-up voting units and some of the best branding I've seen in any industry, public or private. They are truly embracing social media and new forms of communication to engage with voters.
Also, I happened to see the biggest printer I've ever seen in my life. I thought we were going to do some time traveling in this machine! When Neal wanted to maintain control of printing in-house (understandably, for quality control), he knew he would have to create a business case. So, Orange County now relies on the Registrar's office for their printing needs, creating a revenue source instead of drain! Ingenuity truly is alive and well in Orange County.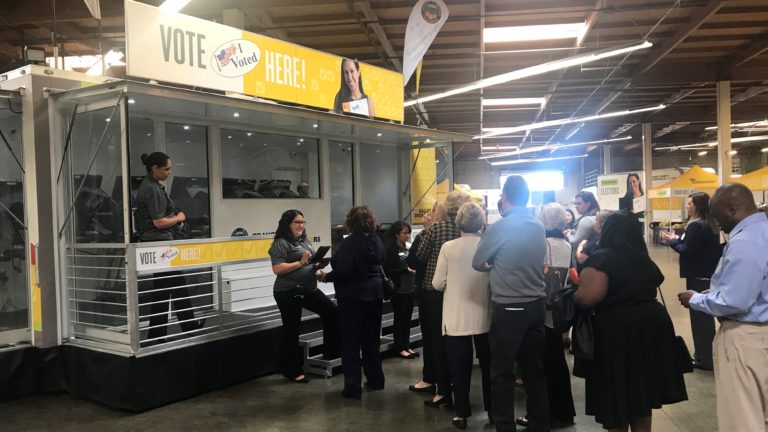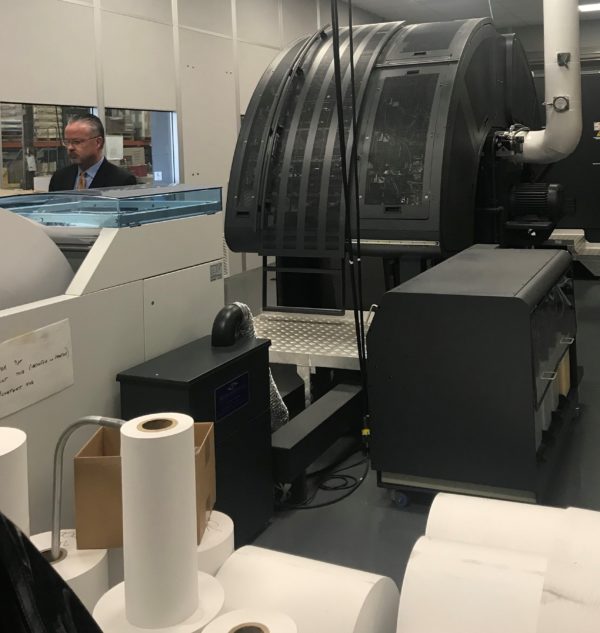 As a vendor, it is so deeply appreciated when an organization cares about their financial supporters. iGO leadership has even gone so far as to joke that any time someone refers to one of us as a "vendor" instead of a "partner", they have to make a $1 donation to the iGO charity of choice! One way that iGO supported their partners at this event was to invite those of us attending to sit on a panel on "RFP Best Practices". It was so reF.R.E.S.H.ing to be able to have an open, constructive dialogue on how to really improve the RFP process, from both sides of the table. Bravo iGO for seeing challenges in the industry and opening up the line of communication to help blast through those struggles we all face!
Overall, I cannot say enough great things about these events. The Summer conference in Houston looks like it too will be outstanding, offering a charity event that gets partners and officials alike helping out with hands-on projects; and unstructured networking dinners that give ALL partners, great and small, the chance to meet attendees and other partners. The energy and effort that iGO staff and volunteer leaders are pouring into this organization is manifesting in rewarding events that offer any attendee an opportunity to have fun, meet new people, and learn in new and exciting ways.
Share this story, choose your platform!